|
About Us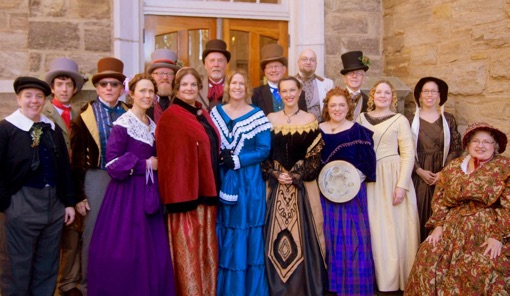 In 1984, a group of friends, most of them residents of the historic Oakwood section of Raleigh, NC, came together to sing carols for their neighbors during the Christmas season. As years passed, the ensemble evolved and adopted the name The Oakwood Waits. (The term "Waits," from early English, refers to street musicians, especially singers.) Since then, citizens of Raleigh and the surrounding region eagerly anticipate hearing the harmonious a cappella songs of The Oakwood Waits as they perform in authentic 1840s Victorian attire in parades, public concerts, and private holiday gatherings.
The 17 singers, some of the finest vocal musicians in the area, bring their theatrical talents to every performance. With over 120 songs in their repertoire, The Oakwood Waits delight audiences from every social stratum with beautiful renditions of traditional, classical, ethnic, and popular Christmas songs in many languages. Listeners can seldom stump them with a request for a favorite carol.
The Oakwood Waits have twice been invited to sing at the White House in Washington, DC. The group performs frequently at the Executive Mansion in Raleigh, where they were featured artists on the televised concert program in celebration of its centennial. They have also appeared in "Our State" Magazine, and are played regularly throughout the holiday season on WCPE, The Classical Music Station. To date, they have produced two CDs.
The Oakwood Waits are available to sing at your event during Christmas or at other times of the year by special request. If you want more information about the Oakwood Waits, please e-mail us at moc.liamgnull@stiawdoowkao or use our contact form below.